2016 CRA APPRENTICES OF THE YEAR ANNOUNCED
Two MITO apprentices have been named 2016 CRA Apprentices of the Year at the annual Collision Repair Association conference in Melbourne.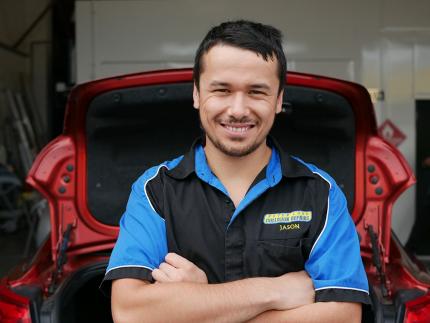 Jason Helmbright from Peter Long Collision Repairs, Palmerston North, was awarded the Apprentice of the Year - Golden Gun. A great communicator, a team player and his extreme competence are qualities that made Jason an obvious recipient of this award.
With an interest in cars from a young age, Jason knew that a career in the automotive industry was for him. Armed with this passion, three years ago, he walked in to Peter Long Collision Repairs and asked to sweep the floors. Starting in the prep bay, preparing vehicles for their repairs, he soon proved he was ready for his apprenticeship. Being a creative and artistic person, automotive refinishing was the perfect fit.
This year he truly proved his competence when thrown into the deep end when the other painters were absent. Jason painted 17 jobs in just one week – all to an experienced refinisher's standard. He demonstrates a hunger for work, asking for advice when needed and is well on track to complete his MITO apprenticeship in the middle of this year.
Jason is looking forward to being fully qualified and with further experience he's aiming to move into a leadership role in the future. As an award-winner, he hopes he can be a role model, encouraging others to enter the industry; as well as proving that if you can work hard, and find a career that you are truly passionate about, you will be successful.
READ MORE ABOUT JASON'S STORY
______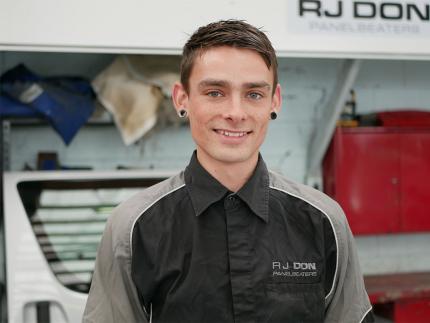 Aaron O'Connor from RJ Don Panelbeaters, Auckland, was awarded the Apprentice of the Year - Golden Hammer. Aaron's dedication to learning, excellent listening skills, enthusiasm for even the hardest jobs and a consistent quality of work stood out as particularly inspiring and commendable traits with the judges.
Aaron began his career in 2013 as a groomer at R J Don Panelbeaters. From his first day he demonstrated he was extremely capable with aspirations for a great career. His determination and high level of skill is well known having been an IAG sponsored apprentice in 2013 and named the 2014 IAG Apprentice of the Year.
Aaron has completed his MITO apprenticeship but believes that learning never ends in his trade. He recently achieved his I-Car platinum status and hopes to compete in the WorldSkills competition.
The repair industry is certainly going to benefit from Aaron's ambition and enthusiasm as he looks forward to the day when he can mentor an apprentice of his own. The Golden Hammer award means a lot to Aaron and is yet another prestigious accolade in an already impressive career.
_________

The other award recipients were:
Best Promotion of the CRA Brand - Redwood Panel & Paint 2005 Ltd, Auckland
Commitment to Training - Ben Thomas Panelbeating Ltd, Hawera
Environmental Awareness - City Collision Repairs, Napier
Outstanding Achievement (Shop upgrade) - Auckland Panel & Paint – City, Auckland
QA Outstanding Achievement - Auckland Panel & Paint – City, Auckland
Best Presented Business - Queenstown Collision Centre (2000) Ltd, Queenstown
Overall Best Business - Beatties Collision Repair Centre, Gore.
Congratulations to all award recipients!