2018 CRA APPRENTICES OF THE YEAR ANNOUNCED
Two MITO apprentices have been named 2018 CRA Apprentices of the Year at the annual Collision Repair Association conference in Napier.
Cassidy Repia from WD Price Panelbeaters, Auckland, was awarded the 2018 Apprentice of the Year - Golden Gun. A meticulous worker with a fantastic eye for detail, Cassidy stood out to the judges as a strong contender for this award.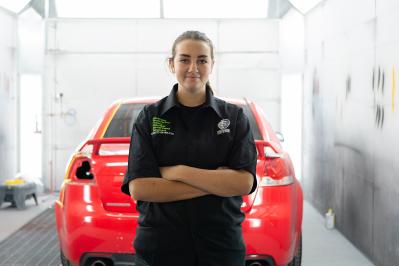 From starting her apprenticeship with no industry experience, to working as paint shop foreman at WD Price Panelbeaters, Cassidy has worked her way up in the industry in record-time. Her achievements during this time are a testament to her work ethic - Cassidy was named the 2017 IAG Top Apprentice of the Year in Refinishing, and received a MITO scholarship in 2019.
While she's already achieved a huge amount at just 23-years-old, Cassidy shows no signs of slowing down. She's now planning on furthering her skills by completing an automotive airbrushing course, which will allow her to pair her impeccable refinishing skills with her love of art and being creative.
Cassidy's natural ability along with her incredible drive made her well-deserving of this award. We are excited to hear more of her achievements in the future, as she continues on what will no doubt be an exceptional career path.
READ MORE ABOUT CASSIDY'S STORY
______
Jordan Lindsay-Smith from Bush Road Panelbeaters, Auckland, was awarded the 2018 Apprentice of the Year - Golden Hammer. Jordan's genuine passion for the trade and his desire to excel in the industry were noted as particularly strong and commendable traits by the judges. They were impressed by his enthusiasm, drive, confidence, and most importantly, his willingness to constantly learn more.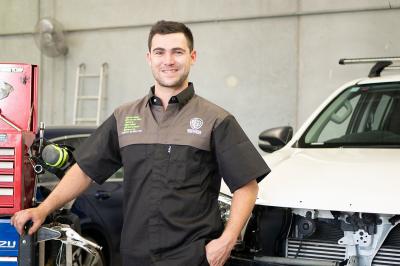 After leaving school unsure of what he wanted to do, Jordan began an apprenticeship at Bush Road Panelbeaters, and soon found that he had a real passion for the industry. This passion was proven when Jordan was named the 2017 IAG Top Apprentice of the Year in Collision Repair.
Described by his employer as a natural leader, Jordan thrives in the workshop environment, and always takes the time to help his workmates. He truly is the definition of a team player, and this, paired with his 'go get it' attitude, makes him a model employee.
In the future, Jordan is eager to open his own shop - but for now, he's focused on honing his skills and spending as much time on the tools as possible.
The future is definitely bright for Jordan. His commitment to his trade is commendable, and we are sure that throughout his career he will continue to be a valuable asset to the industry.
READ MORE ABOUT JORDAN'S STORY
The other award recipients were:
Best Exhibition Stand - Smith & Smith
Best Promotion of the CRA Brand - Road Runner Panel & Paint, Invercargill
Commitment to Training - Hamilton Panel Works, Hamilton
Environmental Awareness - Bridgman Street Panelbeaters, Dunedin
Outstanding Achievement (Shop upgrade) - Gary A Smith, Christchurch
Outstanding Achievement (Quality assurance) - Allan Kellett Panel & Paint, Gisborne
Best Presented Business - Transvisual Spraypainters, Auckland
Overall Best Business - Transvisual Spraypainters, Auckland