2017 CRA APPRENTICES OF THE YEAR ANNOUNCED
Two MITO apprentices have been named 2017 CRA Apprentices of the Year at the annual Collision Repair Association conference in Rotorua.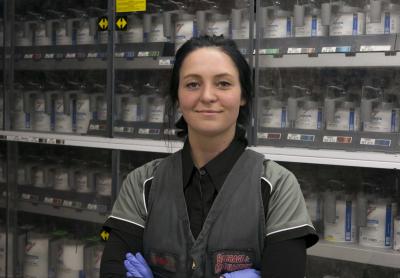 Sarah Campbell was awarded the 2017 Apprentice of the Year - Golden Gun. The judges were beyond impressed with Sarah's passion, enthusiasm and commitment to her trade. Along with an impeccable eye for detail, Sarah displays a consistently high level of quality and professionalism in her work.
An IAG scholarship recipient, Sarah has always had a keen interest in cars and the advancement of her skills and capabilities throughout her apprenticeship was thoroughly impressive. She approaches tasks with diligence and constantly goes the extra mile – her hard work surpassed only by her positive attitude.
Sarah has previously volunteered at school career days, engaging with young people interested in a career in the industry – her honest, friendly and encouraging demeanour no doubt helping to inspire a new generation of young technicians.
Sarah is exceptionally driven to achieve her goals and, demonstrating her ongoing commitment to furthering herself through education, is eager to complete a First Line Management course through MITO to continue to progress her skills and knowledge.
Highly respected by her colleagues in the industry, the pride in her work and love for her career is nothing short of remarkable.
______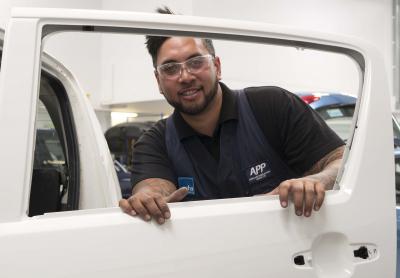 Abner Apineru from Auckland Panel & Paint was awarded the 2017 Apprentice of the Year - Golden Hammer. Abner's great attitude, humble willingness to always help others and excellent work ethic were noted as particularly inspiring and commendable traits with the judges – making him the obvious choice for this award.
With an interest in cars from a young age and wanting a job that would allow him to be active and use his hands, bner says he knew that collision repair was the perfect career for him ever since he started his apprenticeship in 2014.
With a great skill-set that is ever-increasing, Abner has shown a real aptitude for collision repair. His success in the industry is further evidenced by an IAG scholarship and receiving the 2017 MTA Apprentice of the Year award.
Abner applies himself to every challenging situation and his dedication to his craft, coupled with his determined focus, are contributing factors to his success. Described by his colleagues as the "nicest guy you'll ever meet", his friendliness and positive attitude are attributes that reiterate his value to both his employer and the industry.
Always thinking of how to help others, one of Abner's main goals going forward is to use his own success as a way of encouraging Māori and Pasifika people into the industry. In his own words, he wants to support them to "dream big, believe in themselves and gain a career they love."
_________

The other award recipients were:
Best Promotion of the CRA Brand - Mike Butt Collision, Whangaparaoa
Commitment to Training - Mark Jones Collision Repairs, Greymouth and Anderson Street Panel & Paint, Morrinsville (joint winners)
Environmental Awareness - Colin Waite Ltd, Auckland
Outstanding Achievement (Shop upgrade) - Collision Centre Richmond, Nelson
QA Outstanding Achievement - Cameron Panelbeaters, Auckland
Best Presented Business - Wayne Scott Panelbeaters & Spraypainters, Auckland
Overall Best Business - Wayne Scott Panelbeaters & Spraypainters, Auckland
Congratulations to all award recipients!