TRAINING OUR PEOPLE IS INTEGRAL TO OUR BUSINESS
Pacific Haulage Ltd knows the importance of investing in their people. That's why they've recently enrolled 19 drivers into MITO's training programme that leads to a National Certificate in Transportation of Logs by Road (Level 3). The 15 month programme provides drivers with the knowledge and skills for the safe and efficient transport of logs by road. Pacific Haulage Operations Manager, Steven Kent, says the simple reason why they're investing heavily in driver training is because they want highly qualified people driving their trucks.
What if you train your staff and they leave? What if you don't and they stay? It's an apt way of looking at it - we invest in them and their training because they are integral to our business.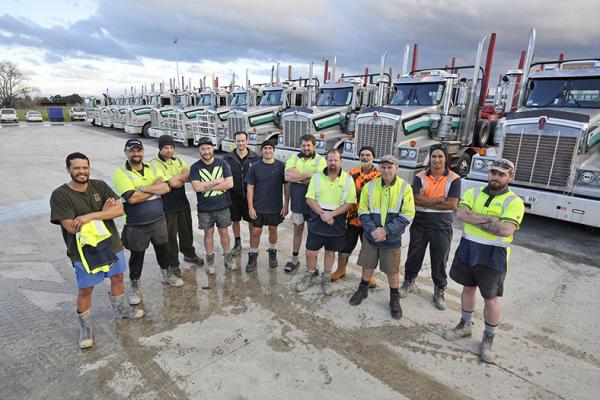 "It's good for the forestry companies we work with, it's good for our drivers, and it's good for us," says Steven. "It's important that we invest in training our people as it shows them that they are an important part of our business and they get a lot of pride from that. It also shows forestry companies that we are investing back in our business and providing them with the trained people that they require on a job."
38-year-old Rangi Taukamo-Pohio is one of the drivers now getting qualified through MITO and knows it is a great opportunity. "To gain this qualification would be a great achievement for me and my family is very proud that I'm doing it. Driving trucks has always been a passion of mine since I was young and this qualification will prove I have the skills and experience to do the job well and progress my career in the future."
Steven says Pacific Haulage makes the programme a compulsory part of new driver training, but they also offer it as an option to some of their more experienced drivers. "For those completing the qualification, we definitely notice an improvement in compliance and a far greater understanding of the whole job in general," says Steven. "The investment pays off for us as it makes them a more well-rounded and professional truck driver and they graduate with a national certificate, which opens up a lot of opportunities for them going forward. It's definitely something we see a lot of value in."
Tim Stevens is another driver enrolled in the training programme. He says that despite not having any experience driving trucks, Pacific Haulage took him on and provided him with the training he needed. "I used to work as a tree cutter and watched trucks drive by on the road," says Tim. "It was always something I wanted to do. So I got my Class 4 licence, met with Steven, and the rest is history. Pacific Haulage is a great employer – they really look after you and this qualification is proof of that."
There's a saying that Steven notes as significant; "What if you train your staff and they leave? What if you don't and they stay? It's an apt way of looking at it - we invest in them and their training because they are integral to our business."