Tours Showcase Automotive Industry to Careers Advisors
At the end of August, MITO ran three successful Automotive Careers Tours in Auckland, Wellington and Christchurch to promote the many opportunities that exist for on-the-job learning and apprenticeships in the automotive industry. Invited on the tours were careers advisors and their students who gained a behind the scenes look at a light vehicle, collision repair and heavy vehicle workshop and found out how students can transition to a rewarding career in the industry once they leave school.
We were able to gain a greater understanding of what employers were looking for and how apprenticeships offer substantial opportunities to young people
Rachael Dippie, Manager Strategic Communications at MITO, says "We know that New Zealand needs more skilled young people in the industry. The objective of the tours was to engage with secondary school careers advisors and show them the numerous automotive careers available to their students. They gained first-hand accounts of the opportunities on offer by talking to employers and their apprentices and hearing about their individual experiences and career journeys."
Feedback from the tours indicated that perceptions of the industry were radically changed. The students and career advisors discovered that the industry is a lot more technical than they thought, and that there are strong pathways leading to lifelong career and financial success, irrespective of gender.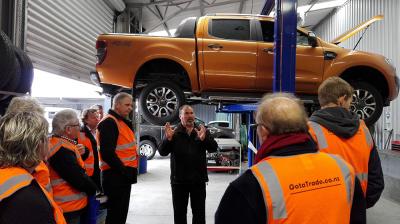 Sarah Jeffs, Vocational Pathways Broker at Waitakere College, said the tour was extremely worthwhile. "It was a great day and a very valuable and insightful experience. Listening to the apprentice's journey and asking questions directly to those in the industry was extremely beneficial, not to mention informative. We were able to gain a greater understanding of what employers were looking for and how apprenticeships offer substantial opportunities to young people."
Participating employers were overwhelmingly positive about the opportunity to share their industry with the schools and many provided business cards to the career advisors to organise work experience placements. Richard Scott, Service Manager at Giltrap Audi, says "We need to do all we can to promote the industry to careers advisors and change their perceptions of the industry. It's really important that students are made aware of the benefits of doing an automotive apprenticeship and I think this tour was a great step in that direction. I even had one of the young students on the tour introduce himself and tell me how keen he was for an apprenticeship here. He has since sent me his CV and I'll likely be offering him an apprenticeship once he's finished school!"
17-year-old Brandi Harrison from Kelston Girls High School, was another student who attended the tour and is now convinced it's a career she wants to pursue. "I really learned a lot," says Brandi. "It's opened my eyes and furthered my understanding and knowledge of the industry and the career possibilities. I've had my heart set on being an automotive technician for quite some time now but the tour helped me realise that I'd actually enjoy being a diesel mechanic instead!"
The tours were part of MITO's commitment to the Got a Trade? Got it Made! campaign, which aims to showcase successful trades and services careers to secondary school students, their parents and careers advisors.