MITO to farewell Chief Executive Janet Lane
After 22 years working across the vocational education sector, MITO Chief Executive Janet Lane will be stepping aside when MITO transitions to Te Pūkenga Work Based Learning Limited on 1 January 2022.
MITO Group Manager Workforce Development, Verna Niao, has been appointed to the new role of Director to lead MITO through the next stages of the Reform of Vocational Education.
MITO Board Chair Andrew Clearwater welcomed Verna's appointment. He said, "The Board of MITO fully support and endorse the appointment of Verna Niao to the role of Director of the MITO Business Division within Te Pūkenga Work Based Learning Limited."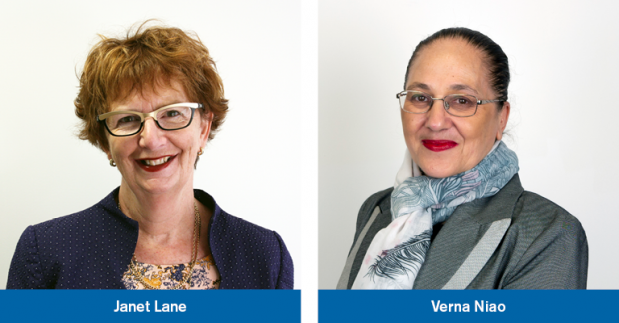 "Verna's extensive experience in various roles within vocational education provides us with the utmost confidence that she will continue to foster her strong relationships with industry, stakeholders and employers as well as continue to champion the high-performing MITO team."
"I am thrilled to be able to lead MITO at this pivotal time in the Reform of Vocational Education that will see on-job, online and campus-based learning reimagined to further improve educational and workforce outcomes for learners, employers and industry," says Ms Niao.
"Today's announcement comes with inherent sadness that we'll be farewelling Janet," says Andrew. "An ever-present advocate of our vision of enriching lives and inspiring futures, Janet's legacy at MITO is simply outstanding. Certainly, a highlight of this year was seeing her receive the Member of the New Zealand Order of Merit for services to tertiary education and notably the wide-reaching and innovative projects that were delivered under her guidance that have significantly improved outcomes for learners and industry."
Ms Lane acknowledges that she is leaving MITO in great hands. "Having worked with Verna over a number of years, I will be leaving with the absolute assurance that our learners, employers and industry partners will continue to enjoy the high levels of service, responsiveness and innovation that our stakeholders value. I know that the talented MITO team, with Verna's leadership, will continue to provide an exceptional contribution to the aspirations of Te Pūkenga."
MITO is the fourth industry training organisation to transition to Te Pūkenga Work Based Learning. The establishment of Te Pūkenga and the integration of New Zealand's 16 polytechnics, wānanga and industry training organisations is part of the Government's Reform of Vocational Education.