MITO and Toyota NZ see the value of employers getting on board with Work Inspiration
Corporate Manager of MITO, Phil Urlich, and Future People Development Team Leader at Toyota New Zealand, Jane Stella, both agree that the Work Inspiration programme has numerous benefits for both students and employers, and they encourage employers to get involved.
"Work Inspiration provides employers with an opportunity to share with students the different roles and career pathways available in their company or industry. Students can gain an insight into the different roles in the company, as well as the formal qualifications which can be achieved while in employment," says Phil.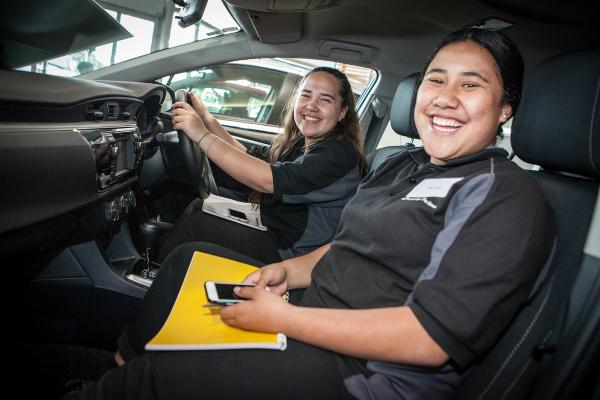 Jane agrees, "Work Inspiration enables young people to gauge the career options available in an industry and exposes them to opportunities they may not have previously considered. It's important for them to try it out and see if it fits before committing, both financially and timewise, to pursue further study or a specific career pathway."
While Work Inspiration opens students' eyes to the career opportunities ahead of them, there are also numerous benefits for employers. These include:
meeting future talent
having a platform through which to showcase the range of career opportunities available within their industry
the ability to mentor young people and share stories of their own career pathways, which can lead to more authentic and enduring connections with secondary schools
building brand awareness through being involved in the programme
being upskilled by Careers New Zealand advisers on how to approach career development in the workplace.
Advice for organisations thinking of getting involved
Jane Stella has the following advice for employers thinking of getting involved in the Work Inspiration programme:
utilise the expertise within Careers New Zealand – this will ensure a high level of professionalism and quality in your programme
plan ahead – how is the programme going to run in practice?
get as many of your team involved as possible to inspire and motivate the students and gain buy-in
provide real-life experiences, where the students can complete tasks and interact with customers.
"Requesting that the students themselves formally apply to take part is beneficial too, as you find out more about their motivation to be on the programme and what their level of interest is in specific roles and departments, the business and the industry," she says.
Article courtesy of Careers New Zealand. To find out more visit workinspiration.nz