Scholarships support Samuel's upskilling
When Samuel Webb started his apprenticeship to complete MITO - Te Pūkenga's New Zealand Certificate in Collision Repair (Level 4) at Takapuna Panelbeaters, he did so with the help of an IAG Trades Scholarship. A few years on, Samuel has decided to upskill further with the New Zealand Certificate in Collision Repair (Structural Repair) (Level 5). Knowing the benefits a scholarship can bring, he applied for a MITO Alumni scholarship in the hopes of receiving extra support once more. "I was very excited," Samuel says when he learnt he'd received the scholarship, which has helped fund his training.
From race cars and classic cars in the Takapuna Panelbeaters' workshop to his personal project of a Nissan Silvia S14, Samuel loves the collision repair process and seeing the results of a well-done job. "When it's all complete it does make you very proud of your work." Samuel wants to be as qualified as he can be to help advance his career and with the structural repair programme he is looking forward to proving he can complete even bigger and more complex repairs.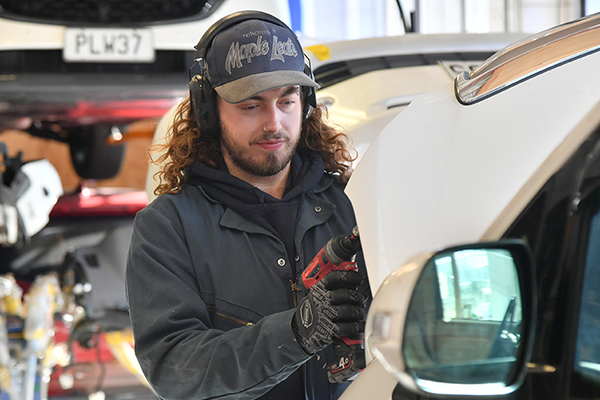 He believes the New Zealand Certificate in Collision Repair (Structural Repair) (Level 5) is a great qualification to have for his future in the collision repair industry and Takapuna Panelbeaters' co-owner Michele Irvine agrees. She was stoked to hear he received the MITO Alumni scholarship and believes it is a great reward for the initiative he has shown in pursuing more advanced qualifications. She says Samuel stands out among young technicians as someone who continuously wants to better himself. "That's got to be praised and encouraged."
The programme itself has been great Samuel reports, "The eLearning system has made everything a lot easier". The support from MITO – Te Pūkenga has also kept Samuel on track. "My MITO - Te Pūkenga Training Advisor is very helpful in setting goals - which pushes me to finish things sooner than I thought I would. When you're having trouble with any assessments they help out where they can."
Michele is also grateful for the support such as regular online progress reports and the one-on-one time spent with apprentices. She believes the rapport and personal connection MITO - Te Pūkenga Training Advisor James Cannan creates with apprentices is very important in keeping them on track.
The importance of upskilling is clear to Samuel who says, "I don't think I'm ever going to stop learning." He knows the standards of the industry and repair processes change all the time and wants to keep up-to-date not only for his own knowledge, but to pass on to the younger generation coming into the trade. Michele highly recommends applying for a MITO – Te Pūkenga scholarship, describing it as a great confidence booster and a fantastic recognition of skills. "You've got nothing to lose when you put yourself forward."
Applications for our 2024 scholarship programme are now open! Start your success story here.