Scholarships providing EV opportunities
Growing up around vehicles all his life, and with his dad working at Mitsubishi New Zealand and his brother working for Toyota, it seemed only natural that Cole Jones would follow their footsteps and work in the industry as well.
Cole has been working at Truckstops New Zealand Limited in Wellington as a Service Technician for five years and his hard work has paid off. He has been awarded a MITO – Inspiring Futures Foundation Alumni Scholarship, which covers the first-year fees for a MITO training programme. Cole has chosen to complete MITO's New Zealand Certificate in Electric Vehicle Automotive Engineering (Level 5).
Cole's interest for the industry started when he was young, "I've always liked trucks and big machines, and on the farm, I would always be the first one to go out and help my uncle fix the motorbikes and diggers. I have always wanted to know how they work." Cole was able to turn his passions into reality by completing MITO's New Zealand Certificate in Heavy Automotive Engineering – Road Transport and MITO's Working Safely with Electric Vehicles Micro-credential. He is now a key member of the team of mechanics at Truckstops and one of three technicians that are on 24/7 callouts.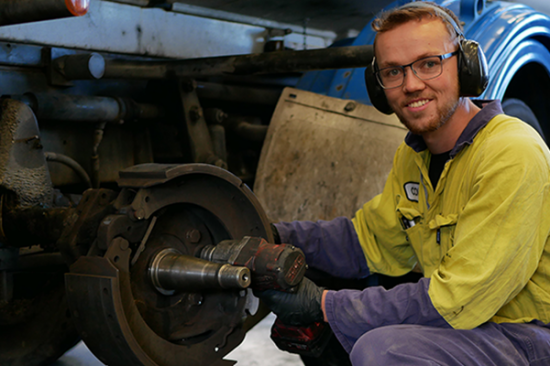 Cole's hard work over his apprenticeship and time at Truckstops has been recognised with his scholarship success. His Branch Manager Tim Gresham was more than happy to support Cole's application. "Cole brought up the scholarship with me and I certainly backed him to apply. His strengths that stand out to me are his commitment, time management and his dedication. He always puts in 100% and doesn't let anything beat him." Tim says that when Truckstops found out about Cole's scholarship, "everyone was really happy for him. We back him and he's got plenty of support to help him on his way."
Cole is due to begin the Electric Vehicle programme shortly and is excited for what he will learn. "EV is relatively new in the heavy vehicle industry. This is a good chance to get a grasp on this new environment. If I can be trained up, then I can be called upon to repair them and that's really exciting for me."
Tim is also looking forward to what Cole can learn and share with others. "Many trucks are now hybrid and electric, so we need to upskill our staff to be able to manage and maintain them. I'd like to see Cole as one of the head technicians in the electric vehicle side so he can lead by example and lead the team."
Cole is super grateful for the scholarship and didn't think he would be awarded it, however with great support from his employer and an honest application he succeeded. "When I was thinking about applying, I was thinking was it worth it, will I get it. But I just put my name down and gave it a go and it paid off. If others are looking at applying next year just give it a go, be as honest as possible and have as much information in your application letter."