Like father, like son
Samuel Broadbent and his dad Phillip have a lot in common, both interested in cars, rally driving and working at Phillip's shop Ngatea Panelbeaters, this father and son are quite the duo.
Samuel's interest in the industry has always been there from a young age. "I would always help dad out on the weekend, and I really enjoyed it. I always knew I wanted to work on cars." Helping his dad out wasn't the only thing that sparked his interest in the industry, it was also his love of rallying, "I'm part of a local rallying club and do smaller events. I have had my own car for about a year and a half, but I have been co-driving with my dad for about four seasons. I recently competed in the Interclub Hillclimb Series event in 2022 and was first in class at the event and third overall."
Samuel has completed MITO's New Zealand Certificate in Automotive Refinishing and is now completing MITO's New Zealand Certificate in Collision Repair (Non-structural repair) (Level 3 and 4). The reason he wanted to complete both qualifications was to expand his knowledge, "I just wanted to know the process from start to finish. I nailed the finishing part, so thought I would learn how to do the beginning parts and have knowledge of how everything works."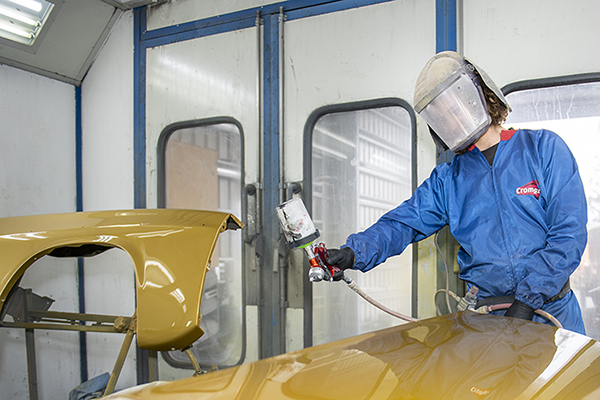 Samuel is halfway through the Collision Repair programme, but still enjoys the refinishing side more. "I think there is more reward in spraying the cars and seeing it completed. Most people see a good paint job and think that must have been a good painter, and the panel beating work kind of goes unrecognized, a good paint job you can take credit for".
Phillip Broadbent, owner of Ngatea Panelbeaters raves about how well Samuel is doing throughout his apprenticeships. "He's been amazing, he's the kind of person you give him instructions one time and he knows it forever. People who have been in the business a long time, he shows them up. He's the kind of kid that could anything in the world. He was Dux at primary school, captain of the First XI hockey team, won medals for rowing and gold as lead sax player in the jazz band. Whatever he does, he succeeds."
An example of Samuel's success was being a recipient of a Collision Repair Association (CRA) Paint scholarship last year. This scholarship provided Samuel with access to mentors from CRA. "The mentors helped me get into an off-site course which helped with my apprenticeship. I was struggling with a big credit assignment and going along to one of the courses was really helpful."
Going off what Samuel has achieved so far; it seems only fitting that he wants to continue studying and getting more qualifications. "Once I finish the Collision Repair Level 3 and 4 course, I would like to do something in the management side. I am also looking at completing MITO's Collision Repair (Level 5) Structural Repair programme." Phillip also wants Samuel to move into the management side, "It would be awesome if he could take over the shop. He's finished his refinishing and doing his Collision Repair qualifications, so once that's done, I would like him to do a bit more on the business studies/management side."
And for any future apprentices looking at getting into the industry Samuel has the tips for you, "always turn up early, try and do your best and give 100% every day."