Goodbye trucks, hello cars
Mohamed Kalbon is currently working at Garage 10 Automotive Limited and is completing MITO's New Zealand Certificate in Light Automotive Engineering (Level 4).
His journey into the automotive industry started in 2003 after he completed a Level 2 Automotive course. However, it wasn't until March 2021 that he got back into this trade. After 15 years as a truck driver, Covid-19 and having two kids, this was the right time for Mohamed to get back to where his passions truly lie.
"Cars have been a passion for me since I was a kid. I used to enjoy every time my dad would buy a new car. We would look at it and work on it." During fifth form (now Year 11), Mohamed began working at a workshop, "I would help out wherever I was needed, even if that was making coffees and sweeping floors. I wanted to get into the industry so would do whatever to help out." After Mohamed left school, he enrolled in a Level 2 Automotive course and worked in a workshop for a few years. However in 2005 Mohamed switched to truck driving. "I was a long-haul truck driver all over New Zealand for 15 years. The freedom of being on the road and seeing the country was really fun for me."
After having two kids Mohamed knew that truck driving didn't allow him to be home when he wanted so he looked at making the switch back to automotive. "Working as a truck driver wasn't well suited for my family. As a mechanic you can do 40-45 hours max a week and be home every night, being a truck driver that's not guaranteed."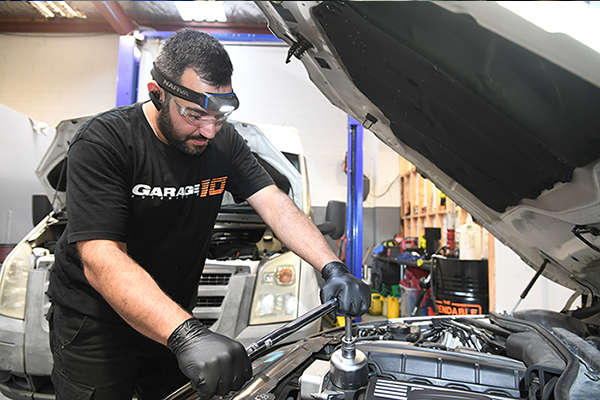 In March 2021 Mohamed began his journey back into the automotive industry. I got in touch with MITO, and they explained to me how apprenticeships worked. I promoted myself as an experienced mechanic who wanted to do an apprenticeship and was hired by Mercedes Benz Palmerston North."
Recently Mohamed moved to Auckland. Thanks to the great support he had from his MITO Training Advisors Brett Neill and then Phil Collings, the transition was very smooth for Mohamed. "I began looking for jobs before moving and found my current one at Garage 10 Automotive Limited. I had completed about 78% of my apprenticeship and with the help of Brett and Phil the transfer has been a very straightforward procedure. They have been amazing and a great help during my apprenticeship."
One of Mohamed's favourite things to learn throughout his apprenticeship is how cars have evolved and how the technology has changed over the past 20 years. "I did my first course back in 2003, and now seeing how cars have evolved and how the technology has improved, especially the safety side of things, is really interesting to me. The potential of where the automotive industry is heading is exciting."
Mohamed has about two months left until he finishes his apprenticeship and isn't stopping anytime soon. "Once I finish my apprenticeship, I plan on completing MITO's Working Safely with Electric Vehicles micro-credential, then I want to enrol in a level 5 Light Automotive Engineering programme and later complete a Diploma in Business Management. My goal within the next five years is to become a Service Manager or own my own workshop one day."
As for any advice he would give future apprentices, it would be to never stop learning, "use your time throughout your apprenticeship to keep learning and upskilling, always be studying and with the way technology is going, there's always a chance to continue moving up in your career."