Everything is bigger and better with Plant and Equipment
Peter has been working as an equipment technician for two years and is hoping to finish his MITO - Te Pūkenga apprenticeship by the end of the year. He has loved the on-job training that his employer CablePrice provides in partnership with MITO - Te Pūkenga and looks forward to being awarded MITO's New Zealand Certificate in Heavy Automotive Engineering - Plant and Equipment (Level 3 and 4). We had a chat about his experience as an apprentice in the heavy automotive industry.
How did you first become interested in the automotive industry?
My father owns a truck and crane business which I would visit on the weekend when I was younger and help him with bits and pieces. I have also worked on my own vehicles. I was fascinated with how things work and that's what piqued my interest. I was working in fabrication for a while, but I eventually got bored. Every time a piece of machinery came in and I got to work on it, I would really enjoy it, especially the hydraulics stuff, and now I get to do that at CablePrice.
How did you get your current role at CablePrice?
I liked the idea of working on equipment and machinery so when I saw that CablePrice were advertising for a technician, I thought 'oh yeah, I'll give it a go'. I went in for an interview and a practical test and got the job! I originally started on the trucking side with the hope that a position would open up in plant and equipment. I was in that original role for about three months before jumping over to the plant and equipment side.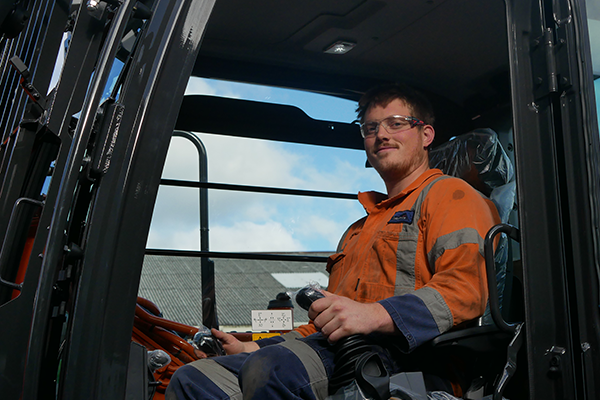 How did you start your MITO - Te Pūkenga apprenticeship?
It was offered when I applied for the job, and we started straight away. I was enrolled on one of my first days. I had a meeting with my training advisor Brian Scott where he showed me how to use the eLearning system and I was then away with my training. The support from MITO - Te Pūkenga has been awesome. They are always willing to help and are very hands-on. We meet every couple of months and set goals together. CablePrice also allocate me time and pay me after hours to do my book work which helps me stay motivated.
How have you found the eLearning side of the programme?
Awesome! My last apprenticeship was all paperwork which I despised. It was a pain and I never ended up finishing it because the paperwork was all over the place and hard to keep track of. Having the assessments online makes it so much easier. I'm a hands-on learner and hated classroom learning. My goal this year is to prioritise my time better for the theory work but it's definitely a lot easier having it online.
What do you enjoy about the Heavy Automotive industry?
Everything that you're working on is big and more interesting. Heavy equipment helps keep the economy running and you get to see a lot of different projects. In this role you will often go to a site that has just broken ground and then you return later and get to see how much progress they have made.
What would be your advice to anyone wanting to start an apprenticeship?
Go for it! No student loans and get paid while you learn. It's a great way to get qualified.