A lot to gain when you can train!
Mexted Motors, in Tawa, Wellington, was formed in 1926 by Cecil Champion Mexted and continued to be a family-run business until 2021. We had the opportunity to chat with Kenny Brighton, the Service Manager to discuss his role, apprentice training and the benefits it has had for Mexted Motors.
What is your job role and your main responsibilities?
I am the Service Manager and responsible for overseeing the service department. This involves managing the team's workload and just generally ensuring customer service is high. I also oversee the training of our apprentices. I make sure they get the jobs they need and are keeping up with their theory work.
How many current apprentices does Mexted have? What qualifications are they completing?
We have three MITO apprentices and a couple from Weltec-Whitireia. We've always had apprentices and I normally keep two on the go. We are lucky at the moment that we have five apprentices: all at different stages of their qualifications. They are all completing the New Zealand Certificate in Light Automotive Engineering.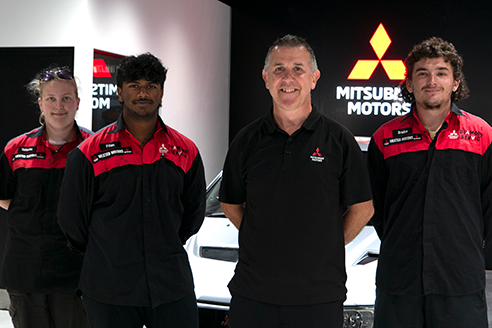 What do you think the best thing about on-job training is?
With on-job training you learn that much faster. Its invaluable. You can physically see, and action, what you are being shown in the theory.
What qualities do you look for in apprentices?
Just a really positive attitude. People that can pick things up relatively quickly. Everyone can be shown how to do something, but you've got to want to learn.
What value/benefits does Mexted Motors see in training apprentices?
Over the last few years a lot of people have been short staffed. We are all struggling to get decent technicians through the door as the borders have been closed over the last couple of years. You've got to train people, you've got to get the young people and encourage them to come in, otherwise you're going to have a short fall in a couple of years' time. I think this is what the industry's found since Covid. The people who weren't prepared to invest in apprentices are struggling now to get staff to cover their gaps.
How does the training of apprentices work for you? What is that process like?
The apprentices get signed to the technicians and they work very closely with technicians. As far as the jobs they do, they learn with the technicians. Occasionally you'll get second- or third-year apprentices that will be able to work on their own on certain jobs but will be supervised by our foreman. Our apprentices keep in touch with what they need and require to get through their MITO training. We try and be as accommodating as possible. We want them to succeed as quickly as they can.
Would you recommend the MITO training programme to other employers? What is the most helpful thing about the MITO programmes?
100%, everyone I've dealt with at MITO has been really good to deal with. The follow up has been great, the encouragement is really good. One of our guys didn't have a laptop and that was all organised through MITO - he was given a loan laptop. I thoroughly recommend it. The training is easy to track as well on the MITO portal. You can see exactly where the apprentices are at and where they need to be. If they have been inactive, you can see that and I make sure I give them a nudge to get their stuff done.
Would you have any advice for employers looking at hiring and training apprentices?
Do it, you've got to. As far as I'm concerned there is a lot to gain when you can train apprentices on the way you do things. You've essentially got a blank canvas and can mould them to fit your business.
We have a very low turnaround of staff and have technicians who have been here for 40+ years. But you've got to train them from the get-go. When hiring and training an apprentice you're investing in your company's future, it is definitely worth it.