A journey worth juggling
Growing up in and around the Kaingaroa forest and with a dad that worked in forestry machinery it seemed only natural that Matiu Weko would end up working in the same line of business. Being surrounded by heavy diesel vehicles and a curiosity for how they work, sparked his interest in working in the automotive and machinery business.
Matiu (Te Āti Awa) is currently working at Piako Tractors in Rotorua as the Parts Manager. He has recently completed MITO's New Zealand Certificate in Parts and Accessories and is now completing the New Zealand Certificate in Business (First Line Management) also through MITO.
His journey into the industry started a bit later due to raising his five kids. "I didn't get into the industry for a while as I was raising my kids. Once they were a bit older and at school age, I was able to put more time into my career. I began working at Piako Tractors in 2016, working during school hours grooming tractors. A year later an opportunity arose, and my manager asked me if I wanted to work in the parts department, and towards the end of 2017 they put me on a parts apprenticeship through MITO."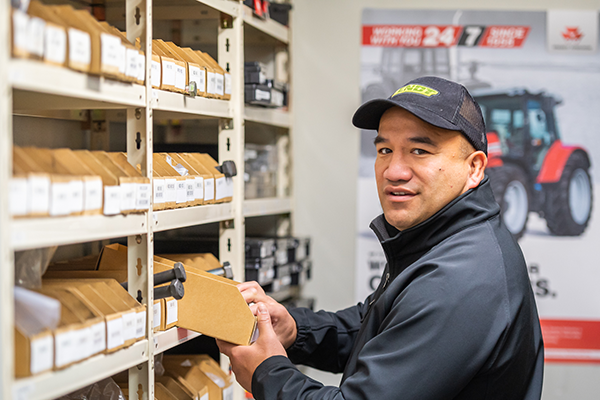 Having an interest in how machines work meant that a move to the parts department was the right fit. "I enjoy working in the parts department and have learnt a lot. I had a bit of knowledge of the basics when I first started in the department but learning the supply of parts and how the department was run was something else that excited me."
Matiu was awarded a MITO Business Skills Māori and Pacific Peoples scholarship at the beginning of this year. This scholarship pays for MITO's New Zealand Certificate in Business (First Line Management) (Level 4) programme. One of the reasons Matiu applied was to further his study. "After the old parts manager left, my work gave me the opportunity to step up and become the Parts Manager. I have one staff member who works with me, and I manage the day to day running of the parts department. I applied for the scholarship as I wanted a way to further my study and do something more in my career and this course is a great step forward."
As to how he felt when he was awarded the scholarship, Matiu replies "I was pretty excited when I found out, it kind of caught me off guard." And the learning isn't stopping there, Matiu says he wants to step up even more. "After I finish the New Zealand Certificate in Business I want to move onto the Diploma in Business."
And if you're wondering how Matiu has managed to complete his apprenticeship, begin a new qualification, all while looking after five kids the answer: sacrifice. "It has definitely been a challenge juggling my work, study and family. I have a partner now and she has three kids, and we have one together so there are nine kids at home. It is hard to make time, but you just need to make time. I am having to sacrifice nights out with my friends to study and get the work done. One thing that helps is to see it more as looking towards the future rather than looking at what you might be missing out on right now."
If you're looking for any further advice on getting into the automotive industry Matiu says to "just do it, don't hold back. There are plenty of opportunities within the industry and it is an industry that will keep you learning. If this is something that people want to do just reach out and grab it with both hands. Give it a go and give it your best."