Many apprentices = a great workshop
Phillip Broadbent has owned Ngatea Panelbeaters, near Thames, for nearly 20 years, and now works with 10 employees, one of them being his son Samuel Broadbent. We sat down with Phillip to ask him about what training apprentices means for his workshop.
Why did you choose to train your son in his apprenticeship?
When Sam left school, he really wanted to become an automotive electrician. He actually got a job in Huntly and the employer promised him an apprenticeship. Then about a month into the job the employer told Sam that they didn't actually have enough work for him, and they had to let him go. At that stage I was busy in the workshop and said do you want to come and join me and spend some time in the paint shop, he agreed. He really enjoyed it and wanted to keep going with an automotive refinishing apprenticeship.
How many other apprentices have you trained?
I have trained many apprentices over my time. We currently have eight apprentices in the workshop. Some are quite experienced and have trained overseas but are working through the New Zealand qualification. All our apprentices are training through MITO with a mix doing the New Zealand Certificate in Collision Repair (Level 3 and 4) and the New Zealand Certificate in Automotive Refinishing (Level 3 and 4).
What benefits do you see in training apprentices?
It results in having really good staff. They can be trained in a way I like and how we like to work. Having qualified people is really beneficial to the business and also the employees.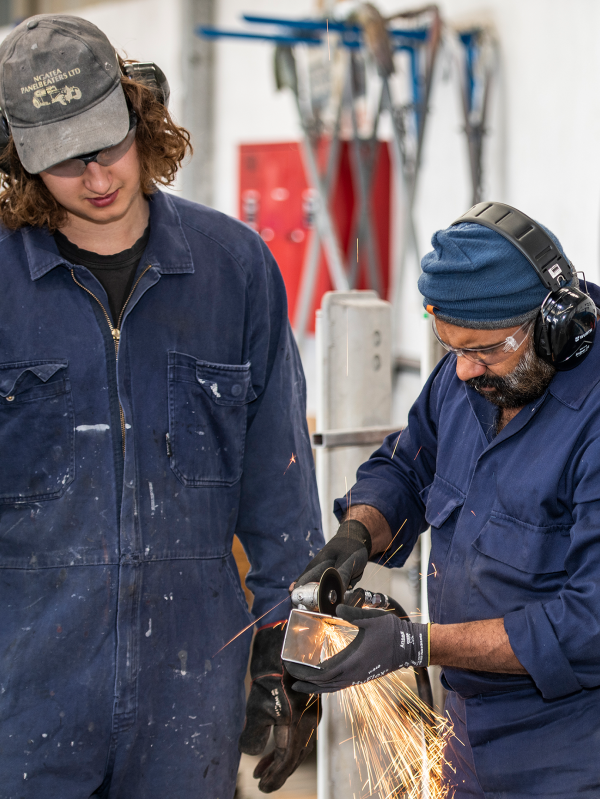 Will you continue to train more apprentices in the future?
Absolutely, it is necessary. There is a massive shortage of trained people. I've got a couple of young guys here now who are genius's so I'm lucky. I just want to keep trying to find those types of people and I will back them all the way.
How have you found training apprentices? What is the training journey like for you?
For me it's pretty easy and not that hard. Some of the apprentices have other priorities in life and a at times they need pushing. But as far as the training in the workshop goes, it is easy. I really enjoy it.
What do you believe the best part about on-job training is?
It is good experience as every day is different. It's not just learning how to do certain jobs; it's learning how to learn, and how to solve issues. I love to give people the tools to work out problems, not just showing them how to do it.
What qualities do you look for in an apprentice?
Attitude is everything. If you have someone that doesn't care and has a bad attitude, no matter how good they are they are not really worthwhile, but as soon as their attitude is good, they can be taught, and you can guide them.
How have you found the support from MITO?
MITO has been amazing. Pete Sharp our training advisor is awesome. He's brilliant and he pushes the guys along. Same with our mentor Noel Miller. I can't speak highly enough of these guys. MITO is lucky to have people like them.
Where do you see the future of panelbeating going? Is it still a growing industry?
Yeah, it's getting a lot more technical. We need to be electrical experts, need to know how to read documentation from car manufacturers. That needs to be applied 100% correctly to do our job. There's a lot to do and to know. It's not just about banging dents out - it's about understanding what you're dealing with and how to do it. That's the future.