Man with the Midas Touch
Jordan Davies of Imperial Panelbeaters, Whangarei, has been recognised as having the golden touch after being named the 2015 CRA Apprentice of the Year at the annual Collision Repair Association awards in April.
Awarded the Apprentice of the Year – Golden Hammer, Jordan's commitment to his craft, demonstrated by his willingness to learn and the pride he takes in his work, stood out as particularly inspiring and commendable traits with the judges. Also highly regarded in the industry, the Golden Hammer is presented to the most outstanding apprentice in collision repair.
I love the hands-on nature of my job.
It was a fantastic surprise to receive the Golden Hammer," says Jordan. It definitely came out of the blue, but I'm delighted and very proud to have been recognised in this way. For me, it really symbolises what I have achieved in my career to date."
With a great propensity for hard work, the twenty-two year old grabs any opportunity to learn with both hands. Jordan completed his National Certificate in Motor Industry (Automotive Body) (Levels 3 and 4) with strand in Collision Repair in 2015, and more recently achieved his iCar Platinum Recognition. His determination and high level of skill is well known, entering the WorldSkills New Zealand Regional Competition and finishing fourth – in the very first year of his apprenticeship.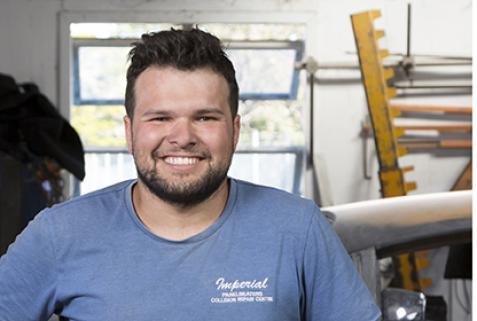 "I really enjoyed that experience," says Jordan. For me, it was the first time attempting several of the tasks – and I had to do them in a competitive environment! It was great though because I believe I thrive under pressure and it really taught me a lot."
With that impressive work ethic, along with his notable technical and procedural knowledge, Jordan is described by his supervisor, Warren Davies, as an all-round asset to the business and the industry.
"Jordan shows a lot of pride and initiative in his work and is undeniably committed to his craft and the industry," says Warren. "With his notable communication skills, he interacts with customers and stakeholders with ease and can easily take the reins for the day to day operation of the business as required."
After leaving school, Jordan quickly discovered he had an aptitude for collision repair, which he attributes to his passion for classic cars - citing the restoration of his 1967 Mercury Cougar as a labour of love. However, with a grandfather who also worked in the industry, Jordan notes he may have inherited some of his skills and knowledge. "When I first considered working in the industry, it did have some sway over my decision," he says. "I thought it would be quite cool to continue that tradition and do what he did."
Sadly, Jordan's grandfather passed away shortly before he enrolled in his apprenticeship, but was well aware of his grandson's desire to follow in his footsteps. "He left me his tools, which I use to this day. They're very special to me and are not only a great reminder of him, but also of where I come from."
With a continuously growing skill set, Jordan hopes to one day own his own collision repair business. "I love the hands-on nature of my job," he says, "and the sense of accomplishment in seeing the customer's satisfaction is a particular highlight for me."