Good As Gold
Kerryn Horn of Harvey Collision Repairs, Hamilton, looks set for a golden career after being named the 2015 CRA Apprentice of the Year Golden Gun at the annual Collision Repair Association awards in April. Held in high regard within the industry, the award is presented to the most outstanding apprentice in automotive refinishing. Twenty-two year old Kerryn, stood out with his enthusiasm and self-motivation listed as particular qualities of note. Together with his great attitude and significant depth of skill, he was an obvious choice for the award.
I'm always wanting to learn more and think everyone should get qualified with a trade!



"I was thrilled to receive the Golden Gun," says Kerryn. "What started off as any normal work day, quickly became one of the highlights of my career when I was called into the office and told I was the recipient. I was quite shocked to be honest – and still am - but I'm definitely proud of this achievement."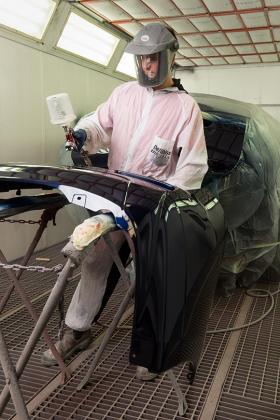 Having recently completed a National Certificate in Motor Industry (Automotive Body) (Levels 3 and 4) with strand in Refinishing, Kerryn has always shown a keen interest in the industry. Volunteering to sweep the workshop floors at Tirau Panelbeaters at just 12 years old, then moving to Hamilton on his own at 16 to complete a pre-trade qualification, he gained as much exposure to the working environment as he was able.
"I've always loved anything to do with cars," Kerryn says. "It's somewhat strange given no one else in my family have any affinity with them, but growing up I just always had this desire to work in the industry! I think that first job when I was 12 years old really resonated with me. It was a small town and they did all kinds of repairs and maintenance in the workshop – apart from refinishing! I vividly remember seeing the vehicles being sent away to another shop to be painted, and coming back looking brand new. I think that had quite an impact on me at a young age and no doubt contributed to my future career path."
Supervisor Brent Shepherd describes Kerryn as conscientious, confident and well respected among his fellow employees – with senior tradesmen often asking for his opinion. "Kerryn is very self-motivated and highly proficient in his work", Brent says. "This is evidenced by his imminent promotion to a supervisor role where he will continue to be an extremely valuable part of our team. I'm ecstatic for him in receiving this award - it's great to see him recognised for what he's done and where he is at with his career!"
Kerryn clearly loves his job and the people he works with and plans to continue progressing through the ranks. "I'm always wanting to learn more and think everyone should get qualified with a trade! You gain great skills and knowledge that you've got for the rest of your life. It opens up so many opportunities for the future. My partner and I are also looking to buy our first home in a month or two – it's amazing what you can achieve with a bit of hard work and positive attitude and influences. I consider myself very fortunate."