A PASSION FOR PRECISION
All her life, Dawn Flower has immersed herself in artistic projects. From painting, to drawing, to carving, Dawn loves using her hands to create. Paired with a love of learning, Dawn is now in a role that combines both of these passions, as an apprentice canvas fabrication technician at The Boat Cover Company in Auckland.
Dawn initially started with The Boat Cover Company in October 2017. "I've been told I got the job because I was so enthusiastic! Enthusiastic about the industry and about starting an apprenticeship."
For someone like Dawn, who says she learns best by doing something hands on, the chance to learn on-the-job was the perfect opportunity to develop skills that will be with her for life. "It's one thing to be able to sew on an industrial machine, but when you're in a training programme like this you really do learn so much more," she says. "I'm learning about the materials, needles, threads, and specialised techniques from people who have years of experience in the industry."
The variety of the role keeps Dawn excited about her work, and there's always a new challenge coming her way. "One day I could be fixing replacement boat covers, the next I could be re-covering yacht squabs and cushions!"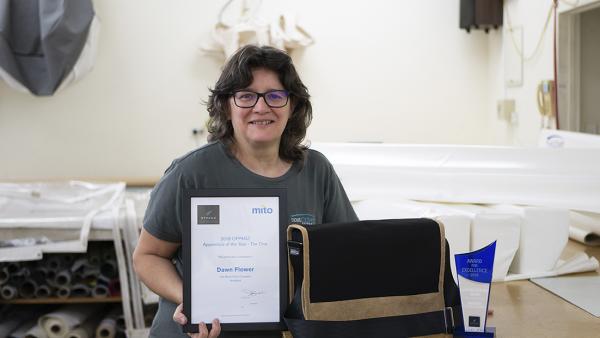 As an on-the-job learner, Dawn is encouraged by her employers to make choices about the projects she is working on. "They do leave quite a bit of the decision making up to me," says Dawn. "It's a two way thing though – it's not all my responsibility and I can ask for help whenever I need it – it's the best way to learn."
Working this way means that Dawn is able to learn from experienced co-workers every day. "I'm always looking to what they do as they're doing it," she says. "It's important for me to ask questions about the things that they're doing so that I can fully understand why we do things the way we do."
Earlier this year, Dawn proved herself in the Industrial Textile Fabrication industry when she was awarded the Outdoor Fabrics Product Association of New Zealand (OFPANZ) Apprentice of the Year (Tier 1). Entrants for the award - apprentices in MITO's Motor Trimming or Canvas Fabrication training programmes for less than 15 months - were required to make a messenger bag to predetermined specifications, with the flexibility to select the fabrics used and add any further design details they wished.
Dawn's winning bag, made from black canvas with brown suede binding, is a testament to her impeccable workmanship. "I like to be precise in everything that I do," says Dawn, "and I always want to make sure that I turn out my best possible work."
Co-owner of The Boat Cover Company, Louise Fleming, says it was no surprise that Dawn won. "She really put her heart and soul into her entry," she says, "we were really thrilled for her."
The company is passionate about hiring apprentices, and understand the importance of being properly trained in the industry. "You can only learn the job, on-the-job" says Louise. "You really need that time on the tools to develop your skills – it's not something you can learn from a book!"
Dawn loves what she does – and can't wait to be qualified. "I get to be creative every day, learn from the best, and once I'm qualified, I know I'll have these skills for life."