TALENTED APPRENTICE WOWS JUDGES
With a background in the fashion industry and a family passion for cars, Tessa Paaymans has finally found a career that satisfies both her love of sewing and restoring classic cars.
Tessa clearly has a talent for industrial textile fabrication. This year she was awarded the Outdoor Fabric Products Association of New Zealand (OFPANZ) 2021 Apprentice of the Year (Tier 1) and also took out the 2021 Overall Apprentice of the Year award with an entry that wowed the judges. Open to apprentices who have been enrolled in MITO's textile fabrication programme for less than 15 months, entrants are tasked with making a messenger bag to certain specifications. With judges' comments like "I'm trying to find anything to fault" and "That bag would sell for hundreds!", it's clear that Tessa's hard work definitely paid off.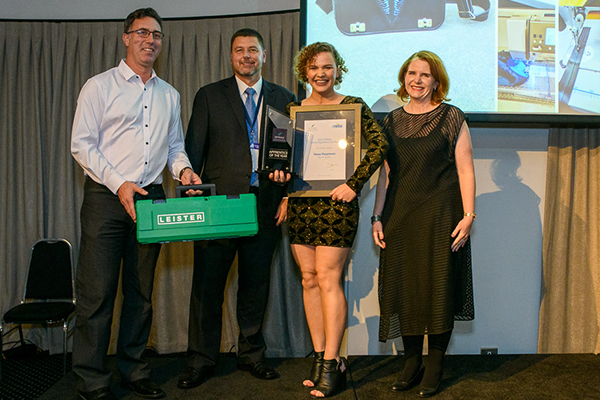 Napier Auto Upholstery owner Malcolm Wilkie agrees, "her attention to detail amazed me," he says. Tessa spent a lot of time thinking about how she would design her bag and spent several weekends working alongside colleague and Outdoor Fabric Products Association of New Zealand (OFPANZ) 2021 Apprentice of the Year (Tier Two) awardee, Bobbi-jo Wilkie. "It was quite fun actually, going in on the weekend, hanging out and working. Bobbi-jo and I match up really well because she's come from the same background as me."
Tessa is currently completing a New Zealand Certificate in Industrial Textile Fabrication (Level 3) through MITO. New to the industry, it has surprised her with the breadth of career possibilities. "If one area doesn't suit you, there's bound to be something else within this industry."
Tessa's skills and talent in the industry began at an early age. "I started at age 13 in Hawke's Bay doing the Edible Fashion Awards and I ended up winning it my first time entering and it sort of exploded from there basically. I've pretty much been dedicated to sewing since I was about 13 years old!"
After working in the film industry designing costumes, Tessa made the decision to move home to work in the family business restoring classic cars. She says finding the role at Napier Auto Upholstery was a perfect fit as the business specialises in classic car interiors.
It's a sentiment echoed by business owner Malcolm, "She's amazing. She's keen to learn and picks up things so easily!"
Having a background in costume design has given Tessa a unique skill set, something she wanted to incorporate into her winning bag. "I wanted to use techniques that aren't traditionally seen in upholstery," she explains. Tessa was inspired by luxury design and used techniques learnt in her costume design career. "I used leather stamping which is used quite a bit in handbags but it's something that's not really utilised in upholstery."
Tessa plans to continue applying her unique way of thinking to her upholstery work. "I'm excited about the chance to make some really unusual stuff with seats that people haven't seen before."
Now working in two family run businesses, Tessa is enjoying the work and hopes to someday have her own upholstery space to complement the family business. "I'd love to do custom upholstery for classic cars." With an award already under her belt, Tessa is sure to have a successful career ahead of her.