HANDS-ON JOB THE PERFECT FIT
"I always knew a trade would suit me best," says 20-year-old Josh West, who has just completed a National Certificate in Canvas Fabrication (Level 3) through MITO, and was this year's recipient of the Outdoor Fabrics and Products Association of New Zealand (OFPANZ) 2019 Apprentice of the Year (Tier 1) award.
Josh, who works as an industrial textile canvas fabricator at John Hewinson Canvas in Whangarei, was never keen on an office job. "I've always been a hands-on person and I enjoy being outdoors," he says. "My uncle used to do the same trade back in his day, so I'd heard a little bit about it from him and it sparked my interest."
As soon as he left school, Josh secured his job at John Hewinson Canvas, and after working there for a year, was offered an apprenticeship. "I get a lot of people assuming that I'm just sitting behind a sewing machine all day," he says. "In reality, it's really varied, and you get to be hands-on with the whole process – from measuring up, to making the pieces, to fitting them – it's definitely more than just sewing!"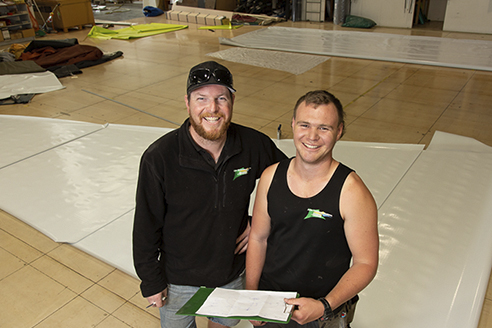 It's this process that Josh enjoys most about his job. "Putting in all this hands-on work and then seeing that finished product, the last fit of a cover – that's a great feeling."
The OFPANZ Apprentice of the Year (Tier 1) award is open to apprentices who have been in MITO's canvas fabrication training programme for less than 15 months. Entrants were required to make a messenger bag to predetermined specifications, with the flexibility to select the fabrics and add any further design details they wished.
"Winning this award was a real confidence boost for me," says Josh. "The recognition from the industry lets me know that I'm on the right track. I was really surprised to find out I'd won to be honest, but happy with the outcome!"
It came as no surprise to Josh's supervisor Kade McDonald that Josh received the Apprentice of the Year award. "He's got clean stitching, straight lines, and has a great skill set overall, so I wasn't too surprised at all!" he says. "I'm really happy he won, he definitely deserved it."
Kade himself completed his apprenticeship at John Hewinson Canvas through MITO, so understands the importance of completing a training programme and achieving a qualification in the industry. "What it comes down to is the fact that our customers are paying for skilled tradespeople to do these jobs for them," he says. "It's a good move for us as a business to have qualified staff, and it's a good move for the employee to get a qualification under their belt."
Josh has now completed his apprenticeship but recognises that he still has heaps more to learn – something he's quite happy with. "I'll just keep chipping away, learning more every day," he says. As for his future plans? "I'd like to own my own business one day. I'll just keep working my way up and see where this takes me!"